Welcome to our beading gallery.
_______________ "bead your heart out" Eureka! ____________
Below you will find some of our favorite jewelry designs that will inspire you and get your creative juices flowing. Take a look at the amazing creativity on display here and be dazzled by the unique and stylish visions brought to life by our designer partners and customers. Looking for ideas on how best to make use of a type of bead you've never worked with before? Look to our galleries organized by bead shape. Want to see what is trendy right now? Browse the whole gallery. There is something for everyone here and many of the designs have instructions available so you can get started making your own gorgeous handmade jewelry right away!
As always, we are thankful for all our customer submissions and always looking to add more beautiful jewelry designs to the gallery. If you have anything that you would like to share just email us a submission at support@eurekacrystalbeads.com.
Below: designs by Sharon Demaris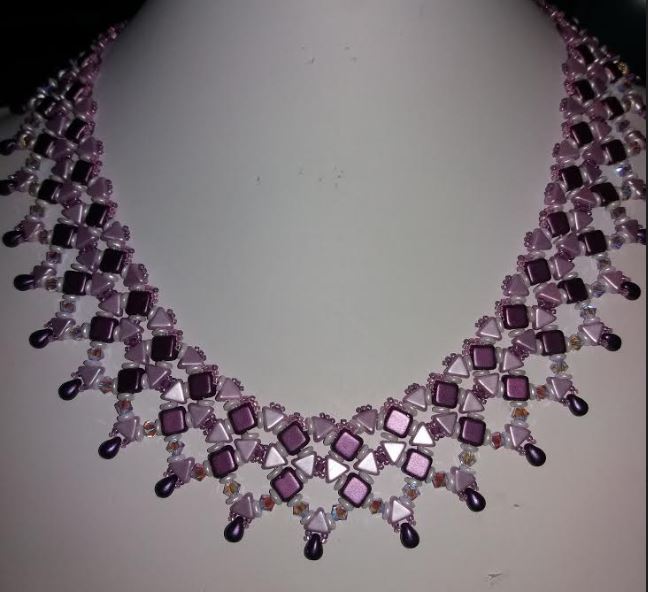 Swarovski design contest - Eureka Crystal Beads Designer's Choice Spring 2017
Below: design by Deborah Lahita
Below: Diane Fitzgerald's Design completed by Patricia Driscoll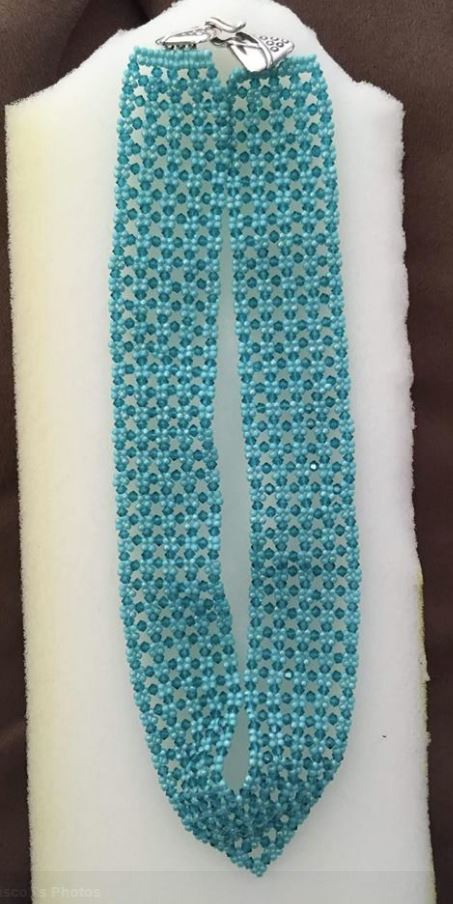 Below: Swarovski jewelry by Erin Lysak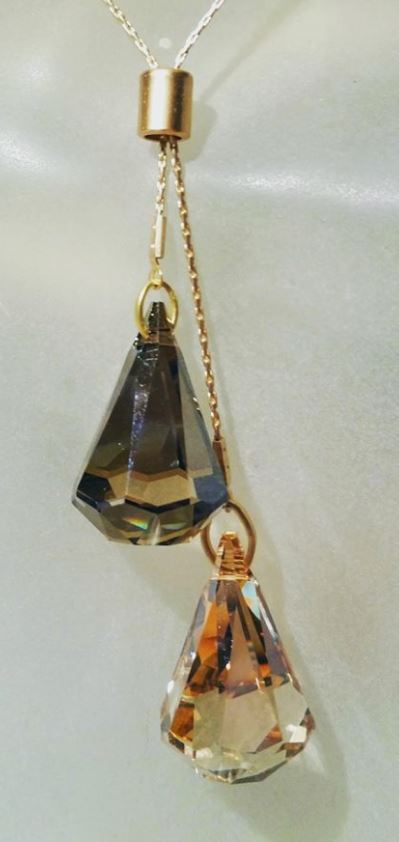 Below: Adrienne Evans Cantler design
Below: project by Maria Jose Clavero Lopez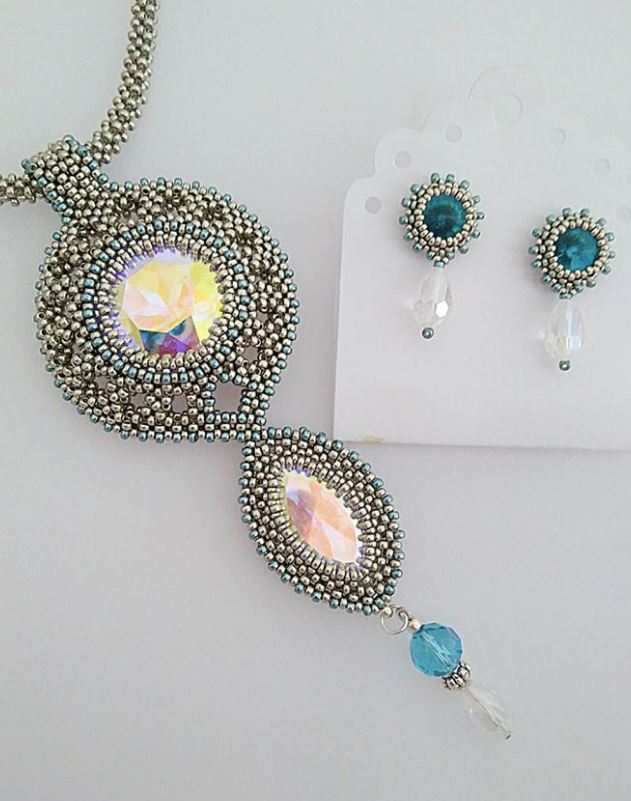 Below: necklace by Melanie April Harris
voted by our customers
Eureka Crystal Beads Designer's Choice Spring 2017
Below: necklace by Sandra West Milazzo Below: earrings by Lisa Renee Garland
Below: bracelet completed by Saundra Farren
Below: design by Kelley Marth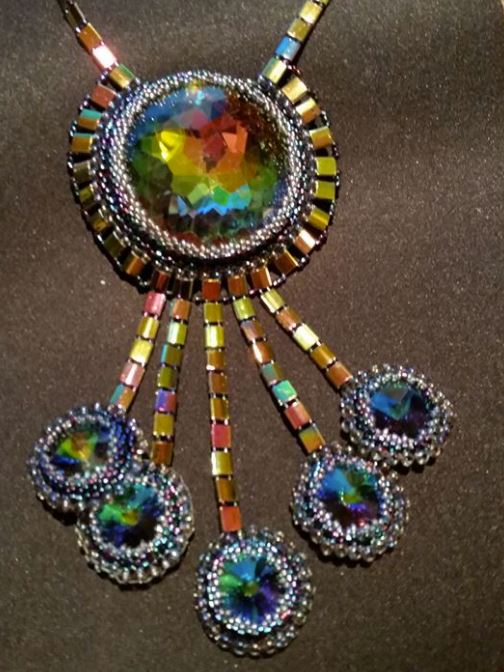 Below: design by Melissa Leistikow
Below: pendant by Sue Purdy Below: first project by Linda Weyrich
Below: bracelet & earring kit completed by Linda Shaw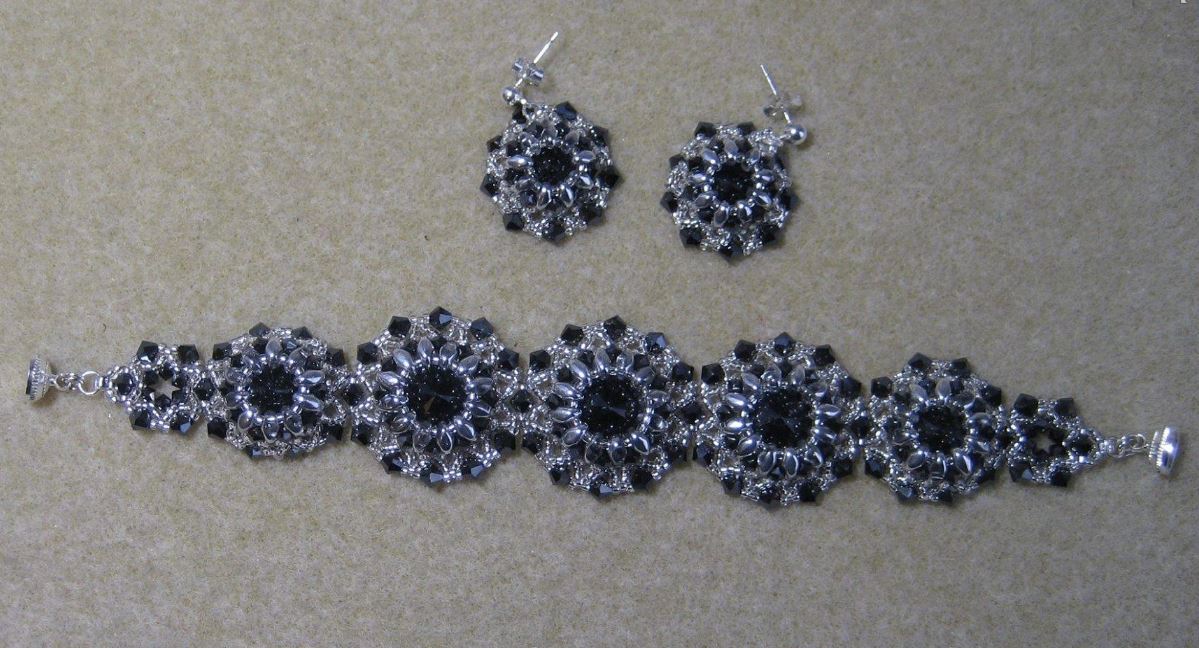 Below: design by Kim Vagnone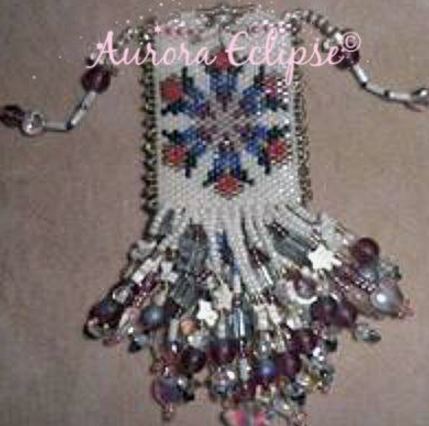 Below: Karen Rettagliata design
Below: necklace designed by Szidonia made by Rangashrii Sridharan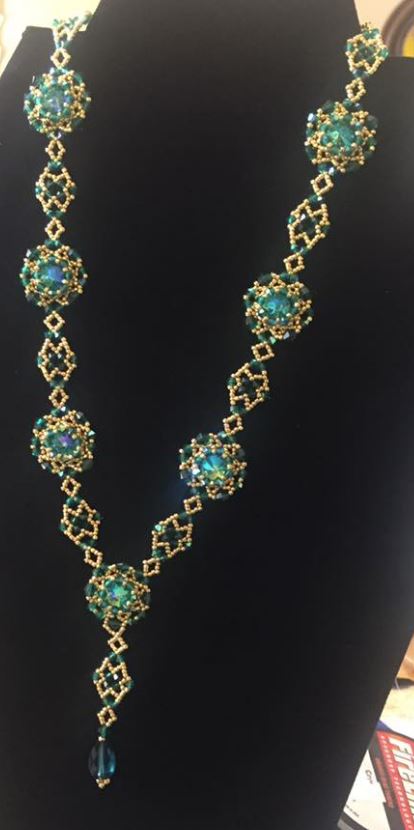 Bracelet made by Cathy Eidem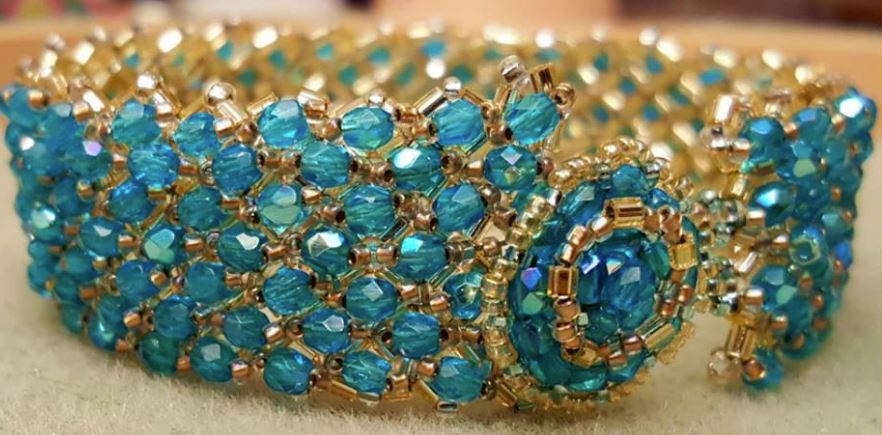 Below designs by Szidonia Petki made by Maura Van Der Linden
Below pendant made by Joann Miller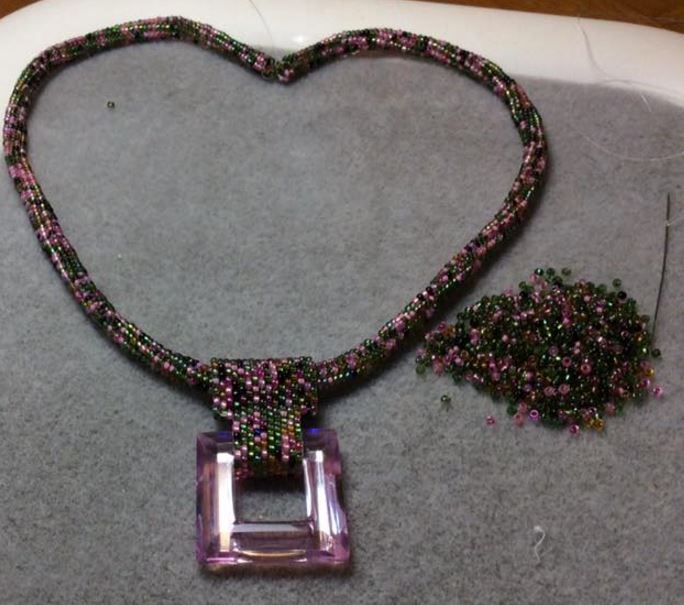 Below: design by Detrina Crystal Constable Kofroth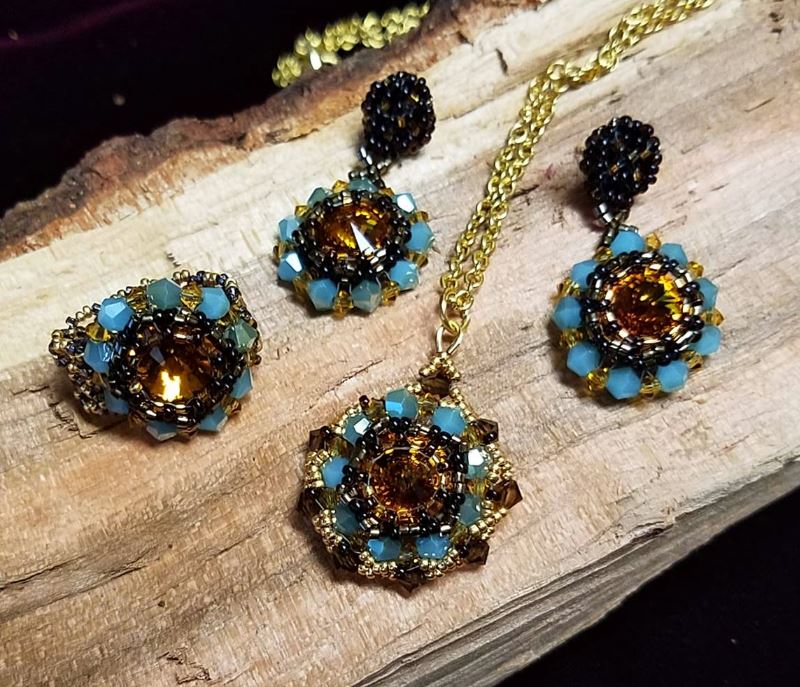 Below design by Lena Baila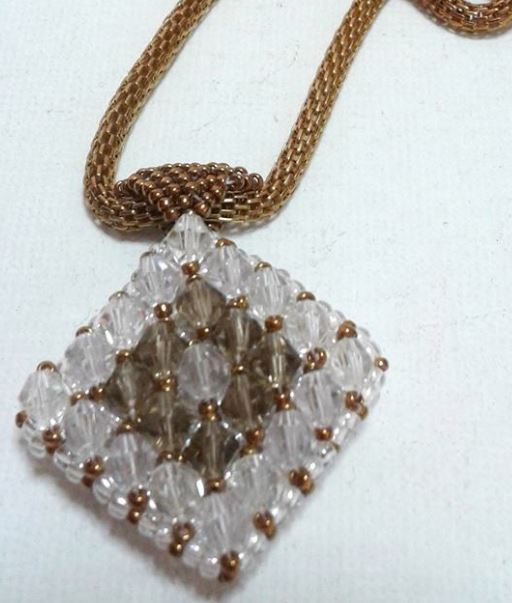 Below: pattern by Extrano completed by Patricia Vizzoni
Below: design by Kelly Wiese completed by Michelle Waugh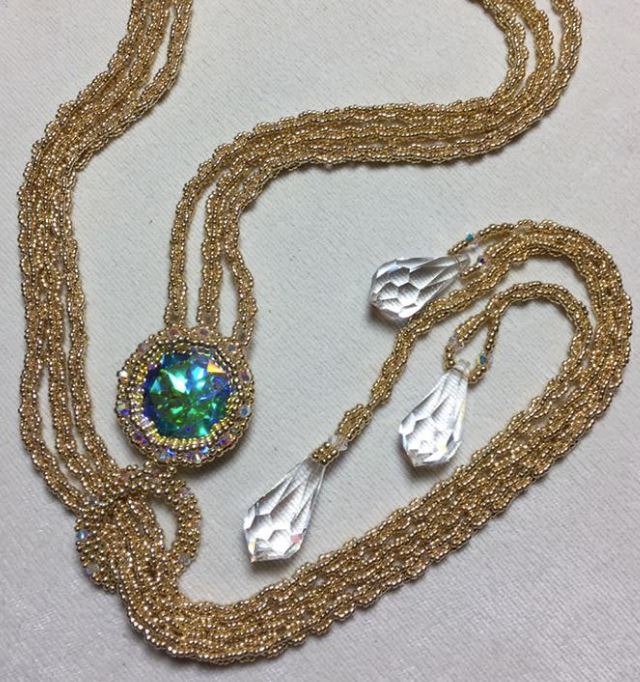 Below: Design By Bronze Pony completed by Meredith McKenna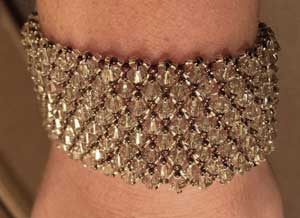 Below: Becky Patellis Designs:
Below: Andrea Hart Design
Below pattern completed by Debbie Carnes
Swarovski design contest - Eureka Crystal Beads Designer's Choice Spring 2017 ENDS HERE
Below: Danielle Clarke of Opal Rose By Danielle used one of our traditional Czech glass buttons to create this fabulous design
Designs by Michele Klous:
Michele's "Diamond Eyes" bracelet pattern is available at her etsy store.
Below: Sally Gecks Designs
Sally Gecks sets Swarovski Rivolis and Chatons in 4-prong Settings.
Sally Gecks uses SWAROVSKI RIVOLIS in her designs.
Sally Gecks uses SWAROVSKI CHATONS in her designs.
Above Designs by SHUKHAN PUN
Bracelet by Melanie April Harris
Fresh off my bead mat. I used metallic blue Swarovski chatons, crystal transmission 2x bicones and 2mm Crystal a/b with Montana pearls. What do you think? What shall I name this piece?
See Design Inspirations for Arcos and Minos Par Puca in Kheops Puca Jewelry
Beautiful dolls dressed in gowns and beaded jewelry by Kathleen Robertson
Easy DiamondDuo Bracelet by Val Hirata
Sharon Miller's Necklace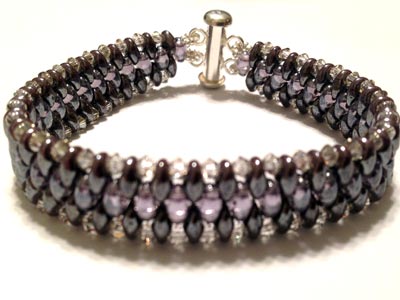 Laura Cilento's interpretation of Snake Skin Bracelet


Bracelets by Michele Fairley
Swarovski Pink and Orange Bracelet by Sally Gecks (cincinnati OH)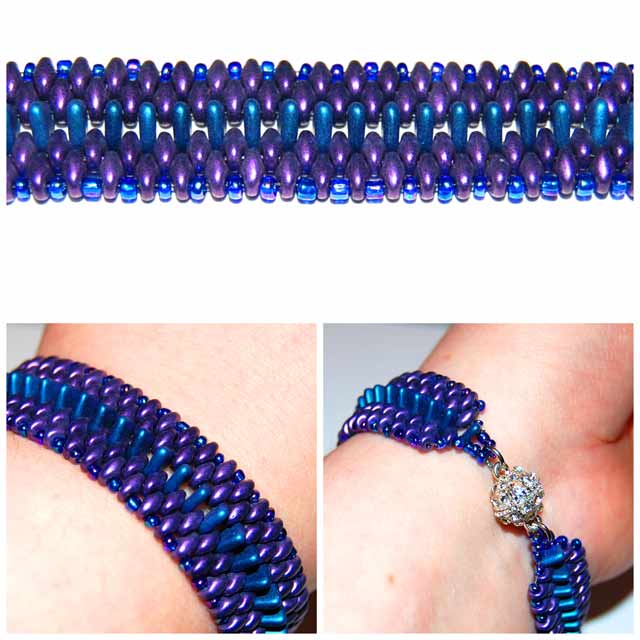 Dragon's Back Bracelet colors by Jaime Springel
See our free pattern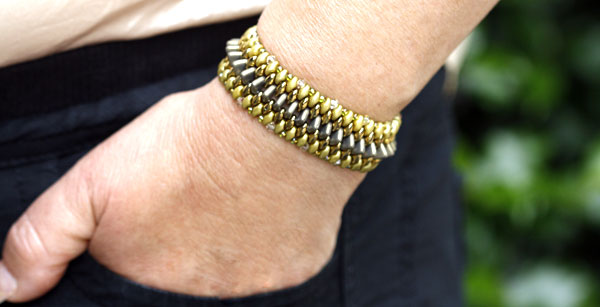 This bracelet is perfect for casual wear. Make it quickly using our free pattern and see for yourself.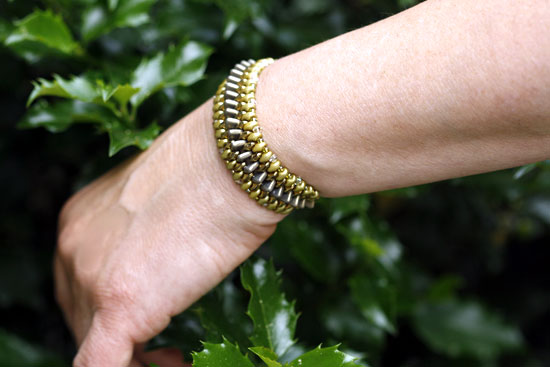 Dragon's Back Bracelet
An interesting spin-off from a Snake skin Bracelet. Read more in our Blog Post.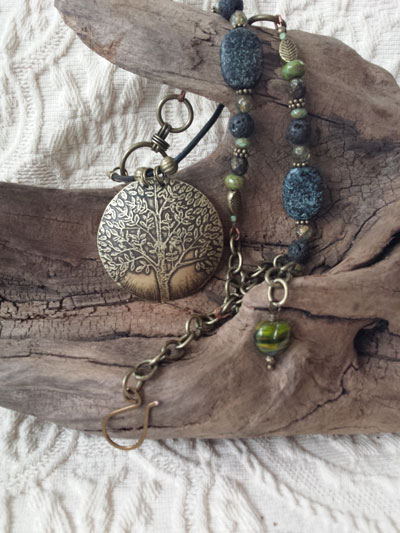 Jewelry by Kathleen Sirois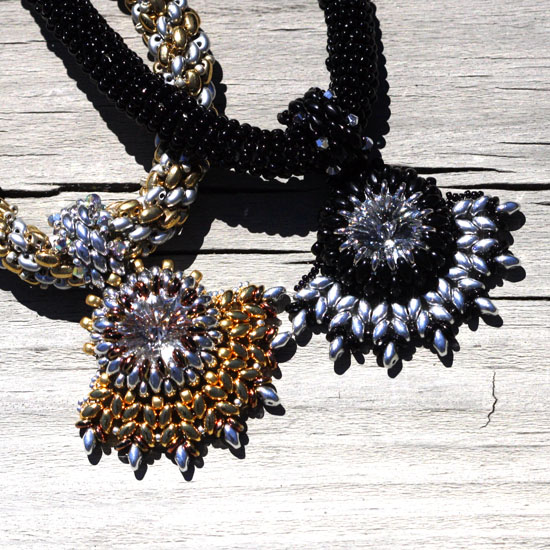 Roman Rivoli Pendant by Ellen Clark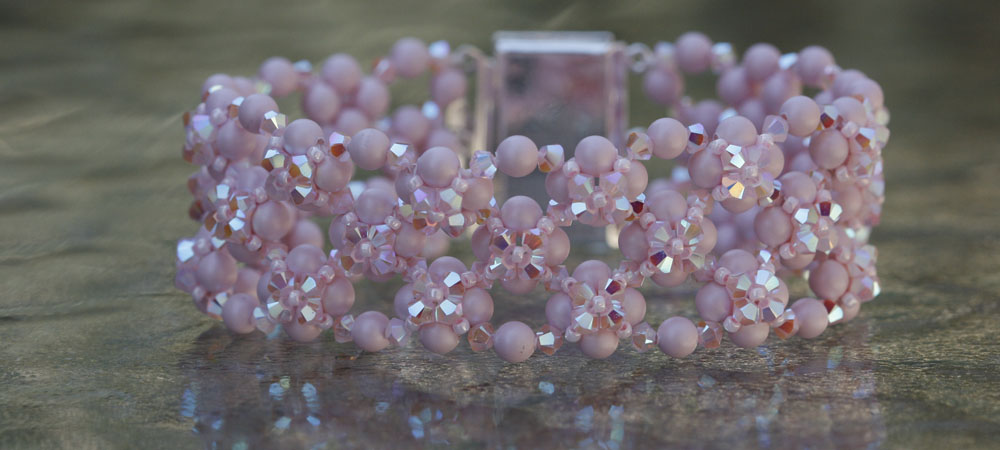 Go Pink Bracelet by Ellen Clark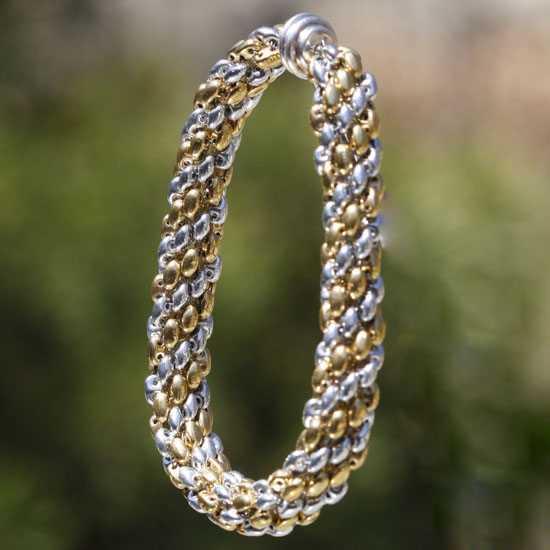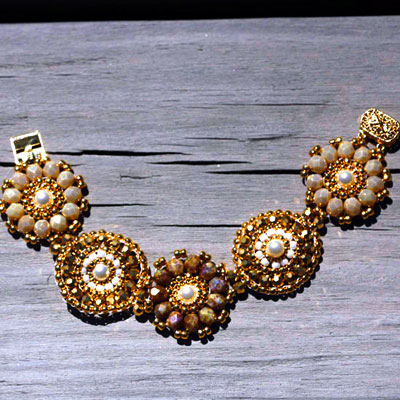 SuperDuo Rope Bracelet Roman Bracelet by Ellen Clark
Zipper Bracelet by Anna Lindell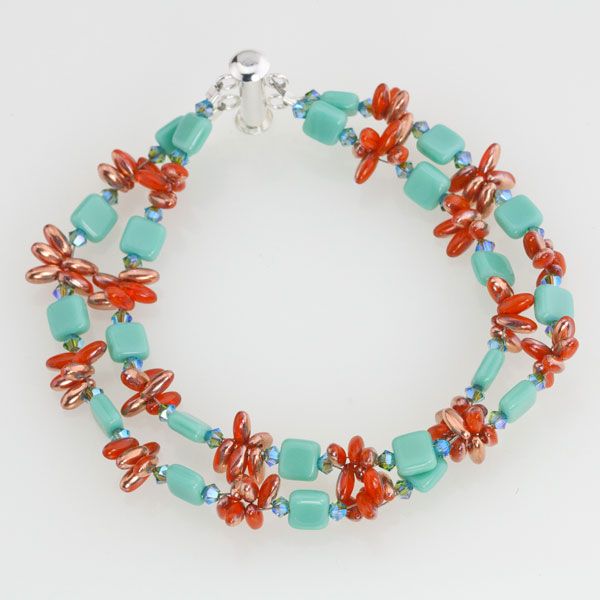 Sedona Necklace Czech Glass Bracelet
Poppy Necklace
Pearls and Gems Necklace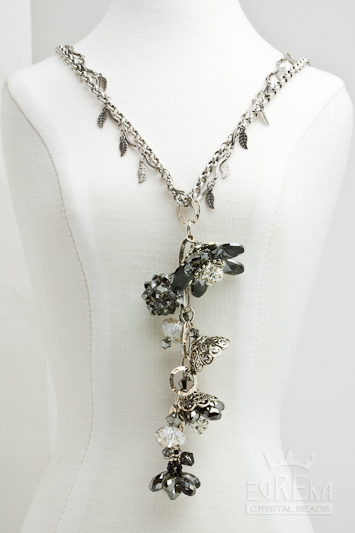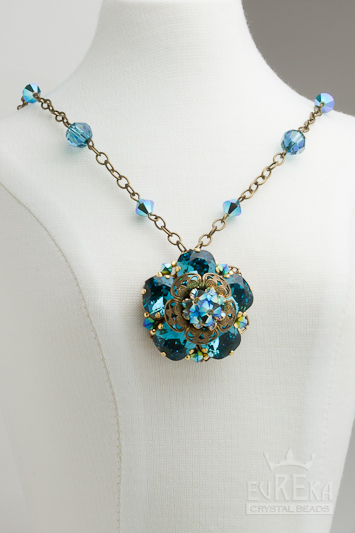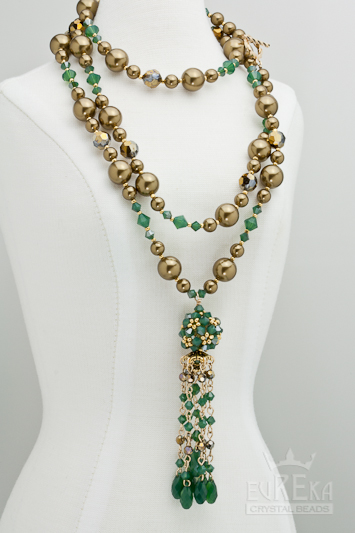 Pendants by Val Hirata - Swarovski Ambassador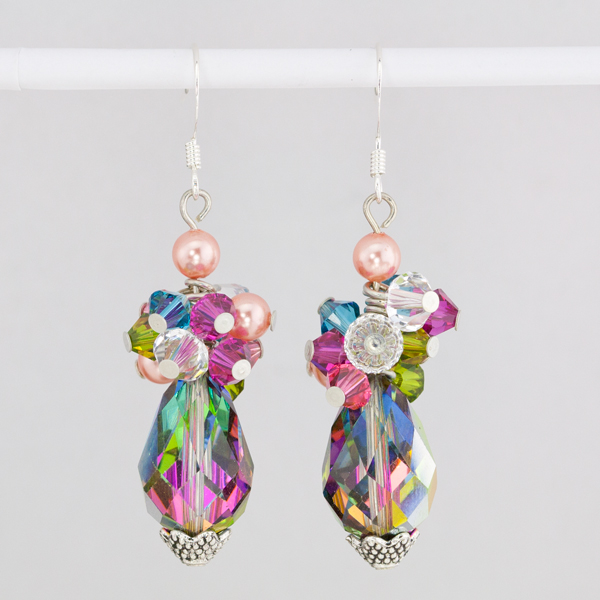 Rio Earrings Desert Rock Earrings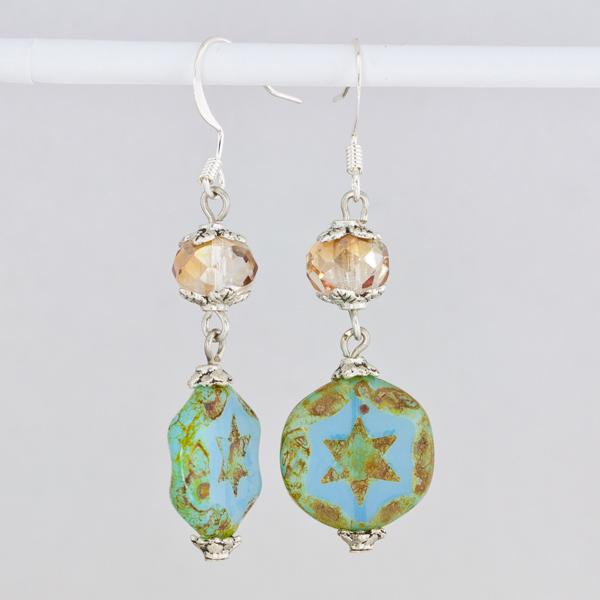 Arizona Sun Laguna Star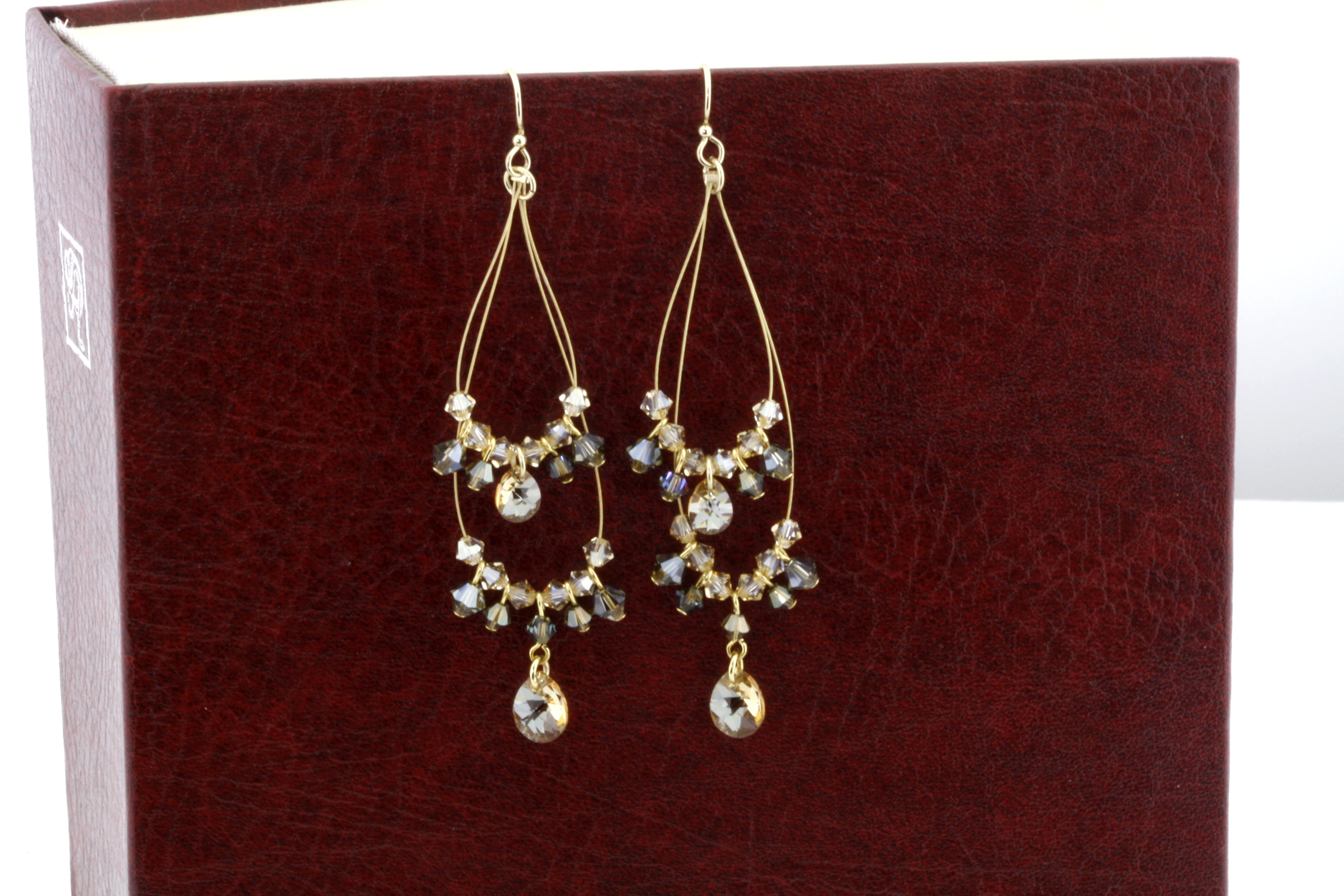 Marie Antoinette Earrings
Swarovski Rosegold Color
Swarovski Rivoli Rings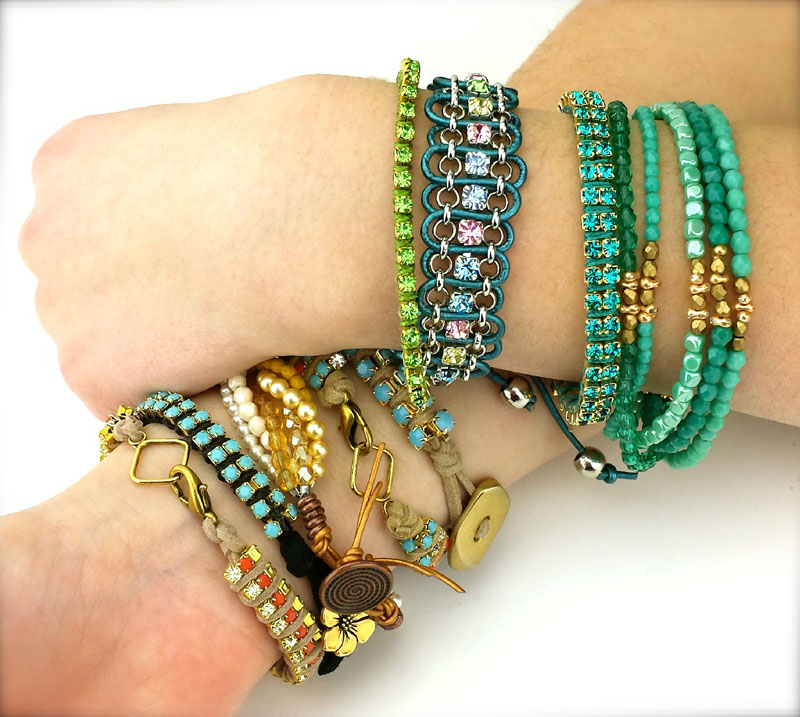 Suede-Rhinestone Chain and Leather Cord Bracelet Projects
Exclusive to Eureka Crystal Beads European Rivoli Leverbacks
Rose Petal Bracelet
Meghan McBrearty Fields of Diamonds and Marrakesh Bracelets
Pearl Clusters Bracelets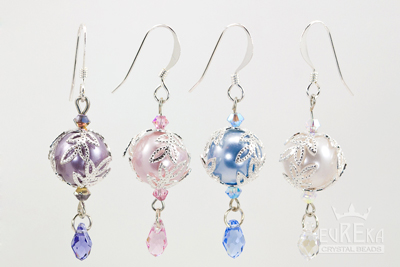 Swarovski Pearl Snowball Earrings
Love me Red Heart Swarovski Bracelet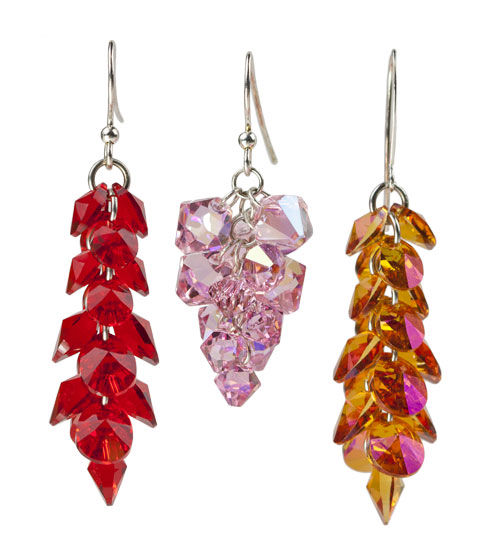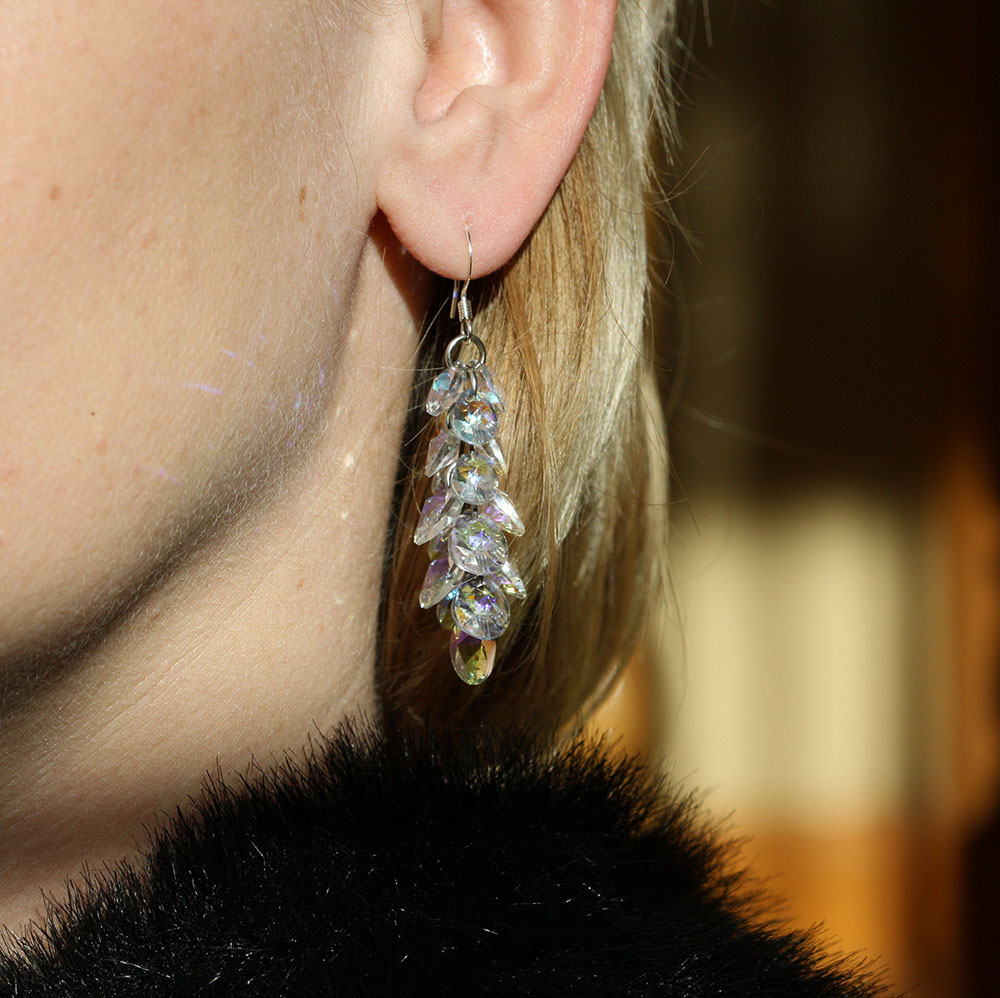 Cascade Earrings made with top drilled Swarovski Crystals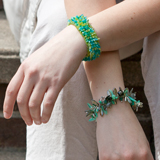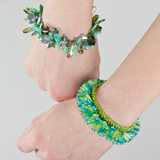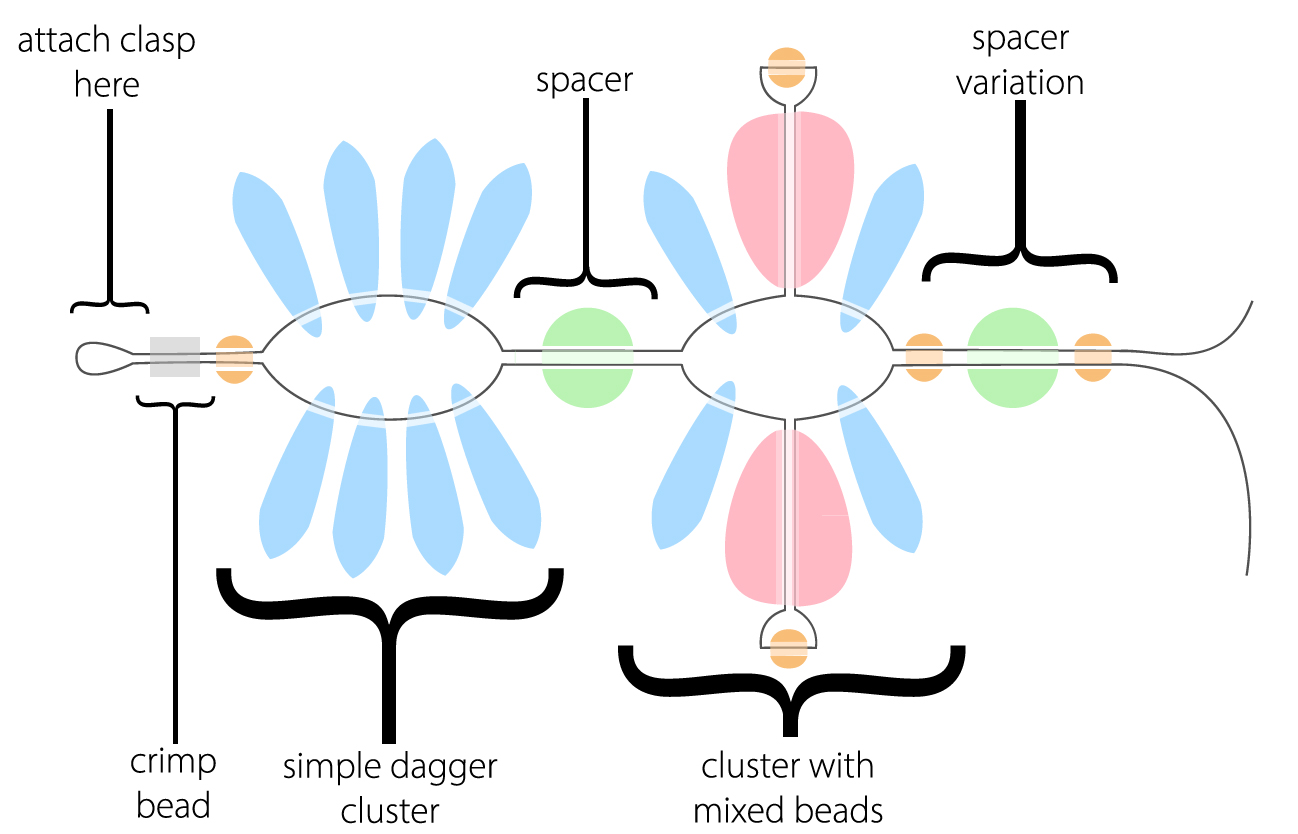 Freestyle Czech Dagger Bracelets
Daggers Touch Me Bracelets
Easy leftover earrings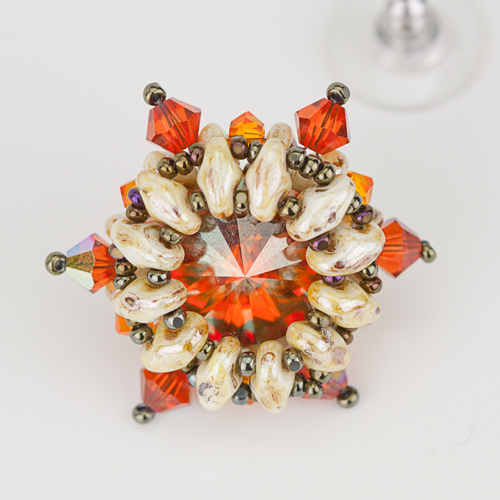 Swarovski Rivoli earring.
Nefertiti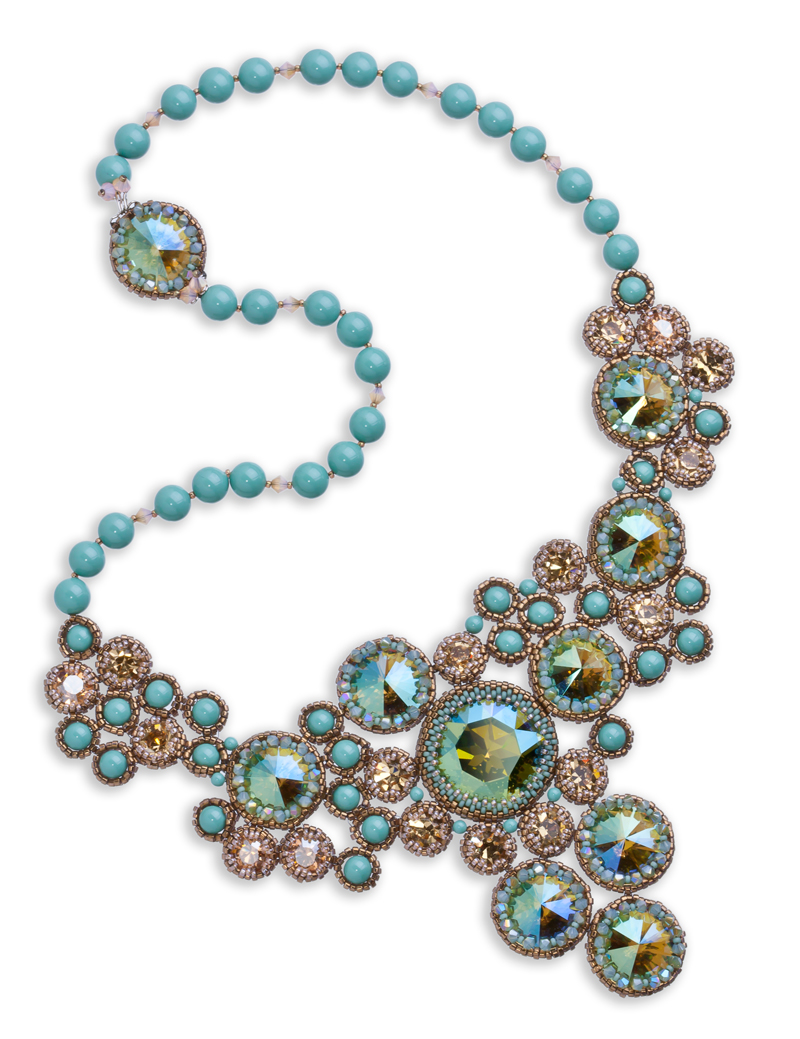 Nefertiti free-style necklace as shown in our add in Bead and Button Magazine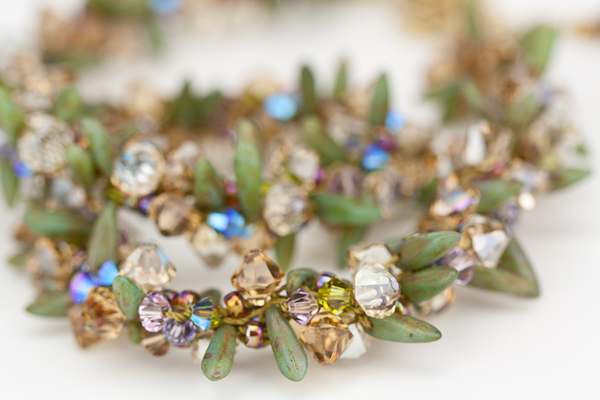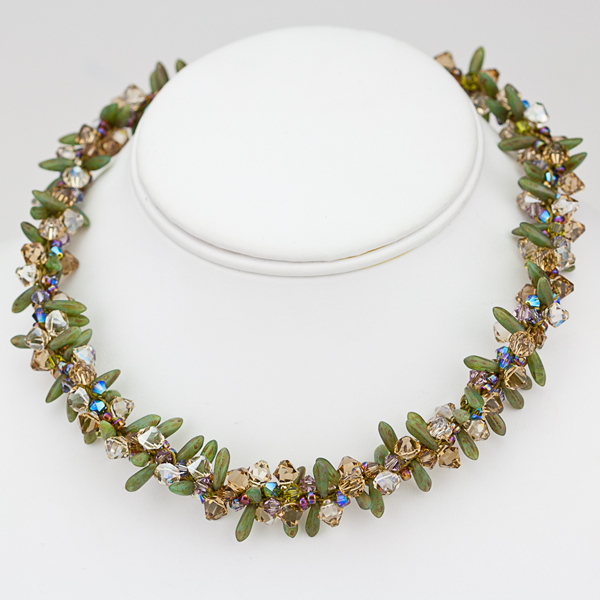 Kumihimo Czech Dagger and Swarovski Crystal Necklace
Czech Farfalle Bracelet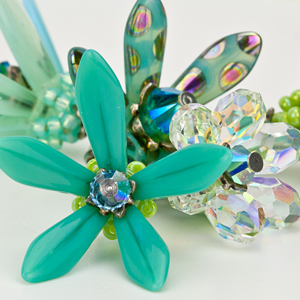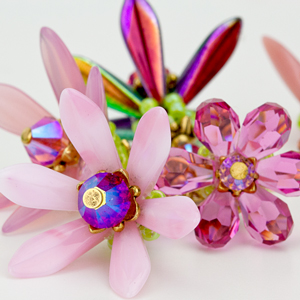 Charms Made of Czech Glass Daggers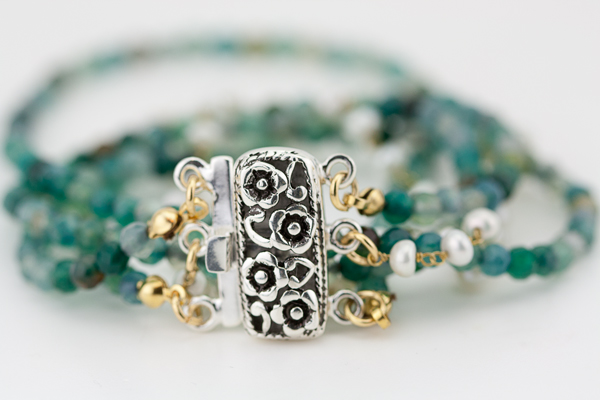 Made in Thailand, High Quality Designer Sterling Silver Clasps
Stylish Beaded Collars - See how to make them
Beaded Collar - Pink Coral Swarovski Crystal Pearls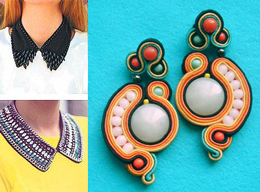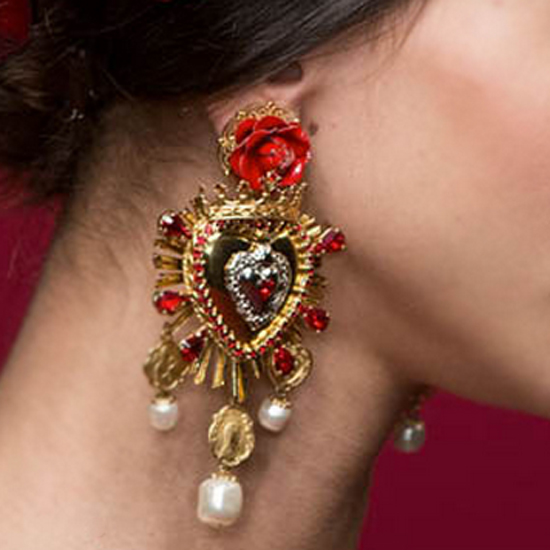 Swarovski Cinco De Mayo